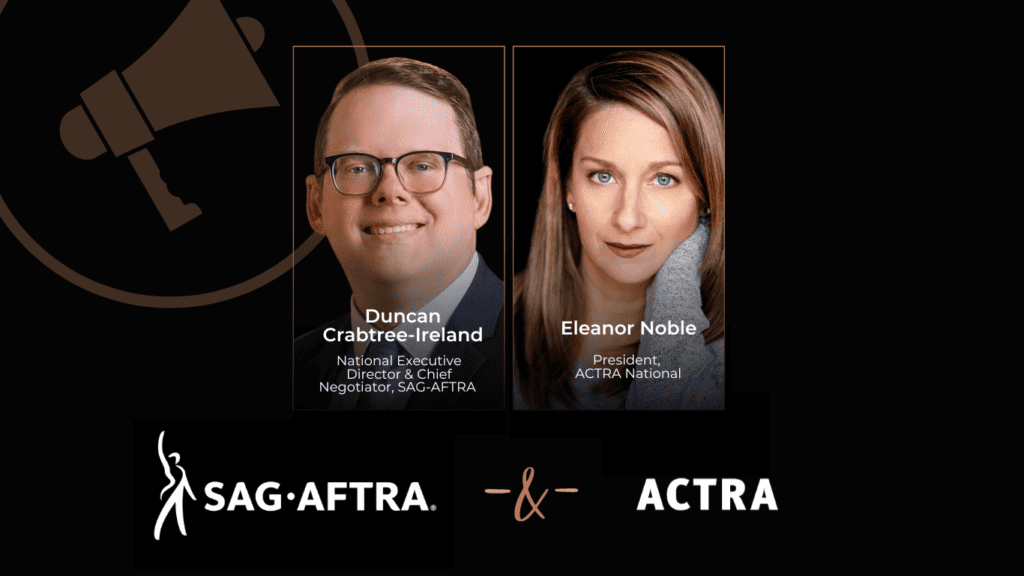 Tomorrow the Alliance of Canadian Cinema Television Radio Artists (ACTRA) and the Screen Actors Guild – American Federation of Television and Radio Artists (SAG-AFTRA) will hold a joint rally outside the Canadian headquarters of Amazon and Apple in Toronto to protest corporate greed that is diminishing the livelihoods of their members.
ACTRA performers have been shamefully locked out from working on commercials through our National Commercial Agreement (NCA) by the Institute of Canadian Agencies Institute of Canadian Agencies (ICA) for 500 days now.
SAG-AFTRA members have been on strike against the Alliance of Motion Picture and Television Producers (AMPTP) since July 14, 2023.
"ACTRA and SAG-AFTRA stand together in solidarity against the corporate greed of studios, streamers and advertising agencies who are raking in huge profits off the backs of performers in both the US and Canada," said Eleanor Noble, ACTRA National President.
"The future of entertainment and advertising depends on the performers whose work drives these industries. Now is the time for these employers to come to the table to negotiate fair deals that respect the contributions of all performers in the US and Canada," said SAG-AFTRA National Executive Director and Chief Negotiator Duncan Crabtree-Ireland, who will join Noble and ACTRA and SAG-AFTRA members at the rally.
WHEN:              11 am ET, Saturday, September 9, 2023
WHERE:            Amazon & Apple Headquarters: 120 Bremner Blvd, Toronto
WHO:        Duncan Crabtree-Ireland, Eleanor Noble, Marie Kelly and union members
Broadcast: The rally will be streamed live on ACTRA National's Facebook Page or @ACTRANational on Instagram and @sagaftra on Instagram.
ACTRA is the union representing 28,000 performers in Canada. The National Commercial Agreement (NCA) has guaranteed fair working conditions, benefits, and competitive pay for on-and off-camera performers in commercial productions in Canada.
About SAG-AFTRA
SAG-AFTRA represents more than 160,000 actors, broadcasters and recording artists. On July 14, SAG-AFTRA called a STRIKE against the AMPTP companies with whom it bargains its TV/Theatrical/Streaming agreement. With national offices in Los Angeles and New York, and local offices nationwide, SAG-AFTRA members work together to secure strong protections for their members.

For more information, video, photos or to schedule an interview contact:
Natalie Clancy, ACTRA National: nclancy@actra.ca
Pamela Greenwalt, SAG-AFTRA pamela.greenwalt@sagaftra.org
or Stacey Roche, SAG-AFTRA: strikenews@sagaftra.org