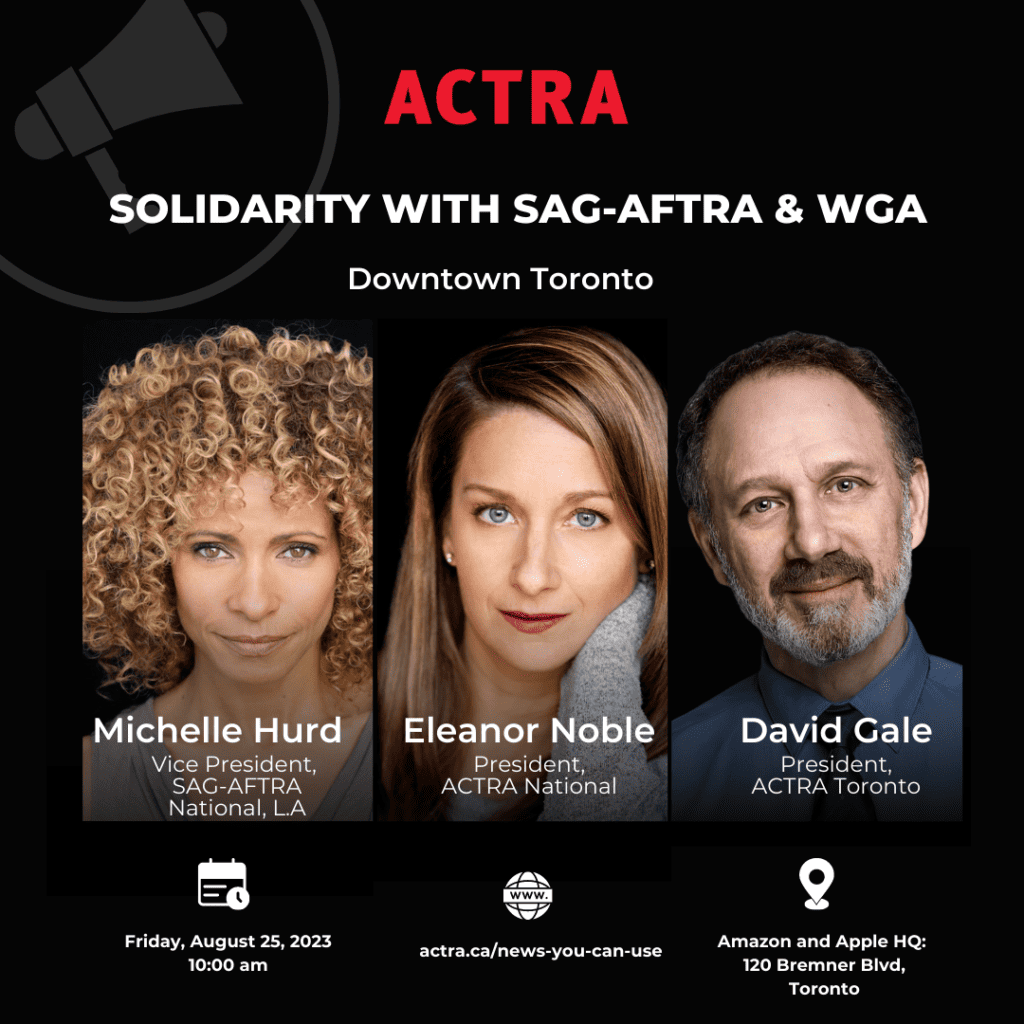 August 23, 2023 – This Friday, the Alliance of Canadian Cinema Television Radio Artists (ACTRA) will hold a solidarity rally in support of striking Screen Actors Guild – American Federation of Television and Radio Artists (SAG-AFTRA) and Writers Guild of America (WGA) members.
This rally coincides with day 486 of the unlawful lockout of ACTRA performers by the Institute of Canadian Agencies (ICA) and the brand advertisers they represent.
"ACTRA stands in solidarity with SAG-AFTRA and the WGA. The issues they are fighting are our issues. Advertising Agencies, studios and streamers need to stop their corporate greed, making huge profits at the expense of our livelihoods," said Eleanor Noble, ACTRA National President. "Enough is enough! It's time to get back to the table and make a fair and respectful deal with us."
SAG-AFTRA National Vice President, Los Angeles, Michelle Hurd will join Noble and many other ACTRA Members and sibling unions for this rally in downtown Toronto as ACTRA exposes advertising agencies, studios, and streamers for their corporate greed.
The SAG-AFTRA strike began over a month ago, while writers have been on strike for nearly four months and ACTRA performers have been locked out for 16 months by the ICA.

10 am Friday August 25, 2023
Amazon and Apple Headquarters: 120 Bremner Blvd, Toronto, ON M5J 0A1
Eleanor Noble, Michelle Hurd, other high-profile performers, and union leaders
will also hold a solidarity rally at the Vancouver Art Gallery at 11 am PT on Friday. The Vancouver rally will be streamed live on UBCP/ACTRA's Instagram page.
For more information about the lockout of ACTRA performers and the union's boycott of union busting brands.
The Alliance of Canadian Cinema, Television and Radio Artists is the union representing commercial performers in Canada. The National Commercial Agreement (NCA) is the collective agreement that preserves minimum rights and protections for ACTRA performers in the commercial industry. For 60 years the NCA has guaranteed fair working conditions, benefits, and competitive pay for on-and off-camera performers in commercial productions in Canada.