ACTRA's fight for hair and makeup equity
Socially biased beauty standards that have historically favoured light skin, straight hair, and facial features with a proximity to whiteness are inherently anti-Black, and in the context of the on-screen entertainment industry, have resulted in a reality where Black, Indigenous and People of Colour (BIPOC) performers often do not receive equitable treatment within the hair and makeup department.
ACTRA has been working to tackle this issue on multiple levels to achieve the overall goal of BIPOC performers having their hair and makeup needs adequately and consistently met on set.
Throughout summer 2021 and into Independent Production Agreement* (IPA) negotiations with the CMPA and AQPM that fall, ACTRA continued to push for the equitable treatment of BIPOC members in the application of hair and makeup services on set. While the CMPA and AQPM did agree to issue a joint bulletin emphasizing that producers "should" provide these services to performers, neither party would agree to the hair and makeup equity bargaining proposals made by ACTRA to resolve these issues. ACTRA made the decision to file a policy grievance in December 2021 on the basis that this inaction contravenes our IPA and Human Rights legislation.
*The IPA covers the engagement of performers in all film, television and digital media production in Canada (except in British Columbia, which operates under a separate collective agreement negotiated by ACTRA's local, UBCP/ACTRA). Click here to read the Joint Bulletin issued by the AMPTP, CMPA and UBCP/ACTRA.
The Hair and Makeup Grievance Arbitration with the CMPA and AQPM took place on May 18 and 19, 2023 in a hearing before Arbitrator William Kaplan, which resulted in a settlement being reached. Read the full News Release here. Some of the key terms of settlement include:
Five full days of pre-bargaining on hair and make-up issues prior to the renewal of the IPA, where all parties will endeavour to make joint recommendations for consideration by the parties' respective bargaining teams when we commence IPA bargaining in Fall of 2024. Typically, bargaining the entire agreement takes approximately two weeks. This pre-bargaining ensures that ample, dedicated time will be allotted to finding joint solutions that will result in creating systemic change on sets, through our Independent Production Agreement.
The creation of a recommended standard of products and equipment necessary for the provision of hair and makeup services to BIPOC Performers
The creation of a tool to help Producers ascertain the skills and competencies required to work with any BIPOC performers who have been cast.
The commitment to work with industry partners to explore opportunities and support the development of existing training initiatives with virtual workshops to address the principles of equity in the provision of hair and makeup services.
The creation of a "Know your Rights" campaign, to remind performers of their rights on set
Joint efforts from all parties to lobby the provincial governments to update the certification standards for hairstyling and college course offerings for makeup services for BIPOC individuals.
The commitment to work cooperatively in accordance with Article A503 in the IPA, and address allegation of discrimination and harassment related to the provision of hair and makeup services expeditiously.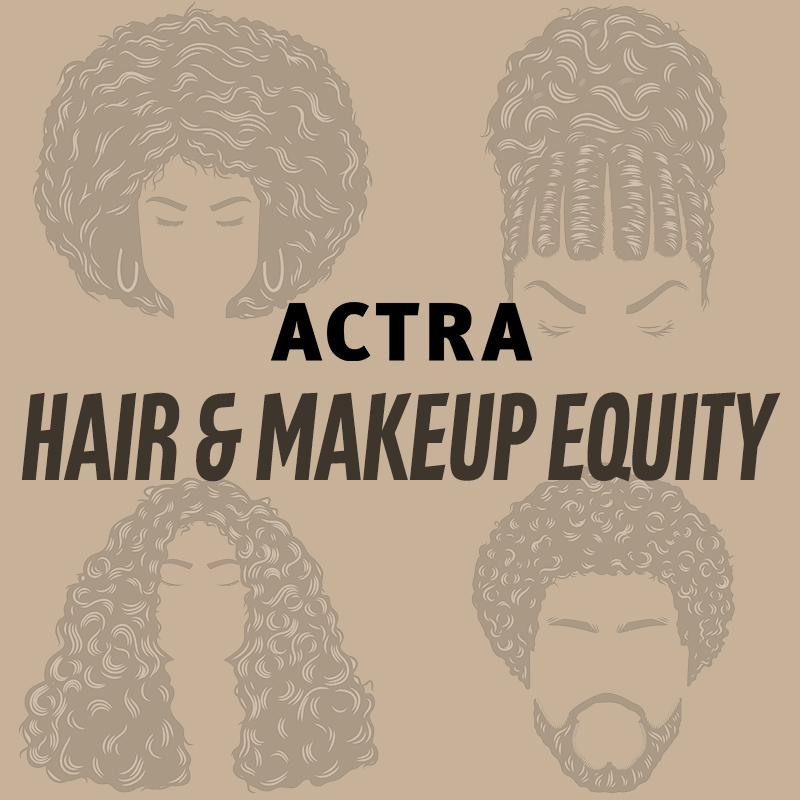 If you are an ACTRA member who would like to submit a lived experience story on this topic, please click here:
We recognize that sharing past traumas can be triggering and encourage members to utilize their mental health benefits through AFBS, or reach out to HAVEN or Calltime Mental Health should you need to to seek counselling. If you are submitting an experience regarding a set that you are currently working on, please contact your local Branch Representative and cc Jenn Paul (jpaul@actra.ca), Director, Diversity, Equity, Inclusion and Belonging, so it can be addressed appropriately with the production.
CREATING POSITIVE CHANGE IN THIS AREA IS POSSIBLE IF WE WORK TOGETHER:
ACTRA Panel Discussions
Media Coverage and other updates
International Discourse on Hair & Makeup Equity