Tips for Auditioning Deaf Performers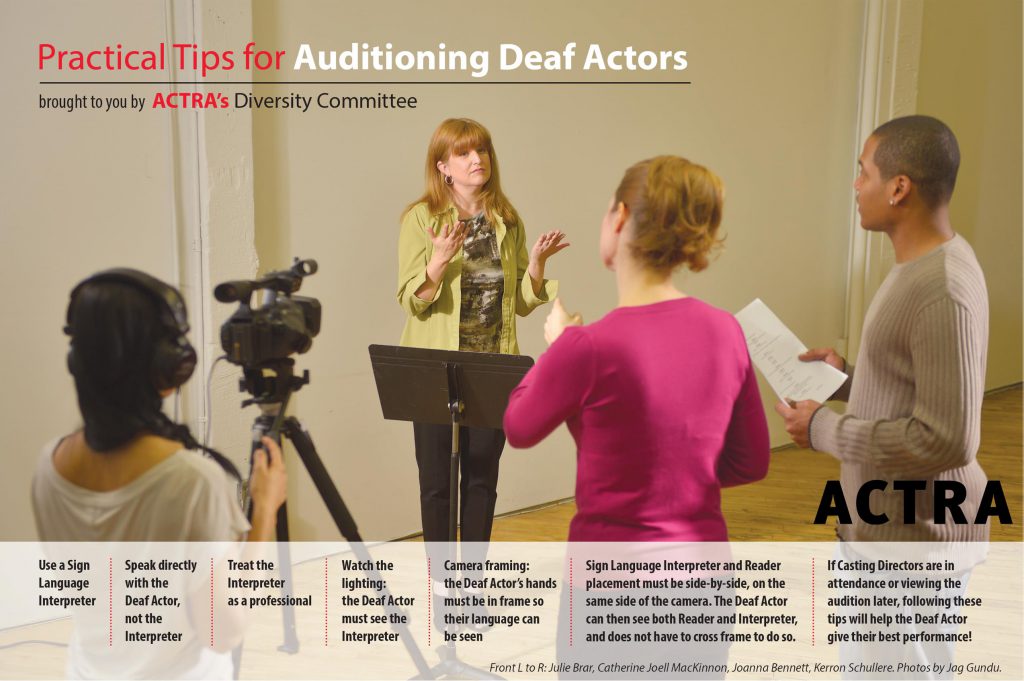 ACTRA National's Diversity and Inclusion Committee produced this practical Tips Guide for Auditioning Deaf Performers. This guide is designed to help casting professionals audition deaf actors, eliminate barriers, and promote a more inclusive work environment. Interpreting in the television, film and digital screen industry requires more than just knowledge of Sign Language. It also takes knowledge of the industry. Deaf actors face unique obstacles when auditioning or performing on set. These tips help casting professionals understand the needs of deaf performers, such as understanding where to place the sign interpreter and how to frame a shot of the signing performer, so that deaf performers are able to get the best audition or performance possible.
Tips Guide for Auditioning Deaf Performers:
Use a Sign Language Interpreter.
Speak directly with the Deaf Actor, not the Interpreter.
Treat the Interpreter as a professional.
Watch the lighting: the Deaf Actor must see the Interpreter.
Camera framing: the Deaf Actor's hands must be in frame so their language can be seen.
Sign Language Interpreter and Reader placement must be side-by-side, on the same side of the camera. The Deaf Actor can then see both Reader and Interpreter, and does not have to cross frame to do so.
If Casting Directors are in attendance or viewing the audition later, following these tips will help the Deaf Actor give their best performance!
"The key to opening doors to great performances is through accessibility."

Catherine Joell MacKinnon
ACTRA would like to give a special thanks to the following people who helped create this helpful tips guide:
Joanna Bennett
Julie Brar
Jani Lauzon
Catherine Joell MacKinnon
Elizabeth Morris
Kerron Schullere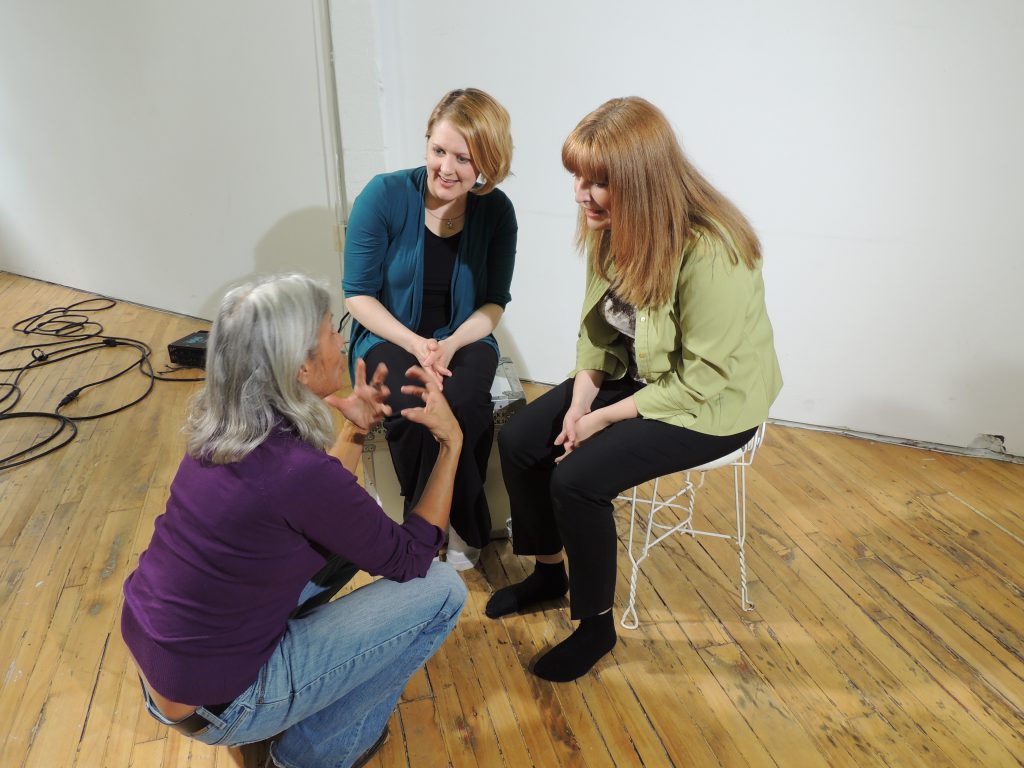 Resources & helpful links:
Association of Translators and Interpreters of Alberta (ATIA)
Association of Translators, Terminologists and Interpreters of Manitoba (ATIM)
The Association of Translators and Interpreters of Nova Scotia (ATINS)
Association of Translators and Interpreters of Ontario (ATIO)
Association of Visual Language Interpreters of Canada (AVLIC)
Canadian Association of the Deaf (CAD)
Canadian Cultural Society of the Deaf (CCSD)
The Canadian Hearing Society (CHS)
Conference of Interpreter Trainers (CIT)
International Council for the Development of Community Interpreting
Canadian Translators, Terminologists and Interpreters Council (CTTIS)
Corporation of Translators, Terminologists and Interpreters of New Brunswick (CTINB)
International Federation of Translators (FIT)
Ordre des traducteurs, terminologues et interprètes agréés du Québec (OTIA0)
The Registry of Interpreters for the Deaf, USA (RID)
The Society of Translators and Interpreters of British Columbia (STIBC)
Translation Bureau Public Works and Government Services Canada
World Association of Sign Language Interpreters (WASLI)
WFD World Federation of the Deaf (WFD)
The Ontario Association of Sign Language Interpreters (OASLI)
Right This Way Access Consulting
---
These links are being provided as a convenience and for informational purposes only; they do not constitute an endorsement or an approval by ACTRA of any of the products, services or opinions of the corporation or organization or individual. ACTRA bears no responsibility for the accuracy, legality or content of the external site or for that of subsequent links. Contact the external site for answers to questions regarding its content.Edit
---