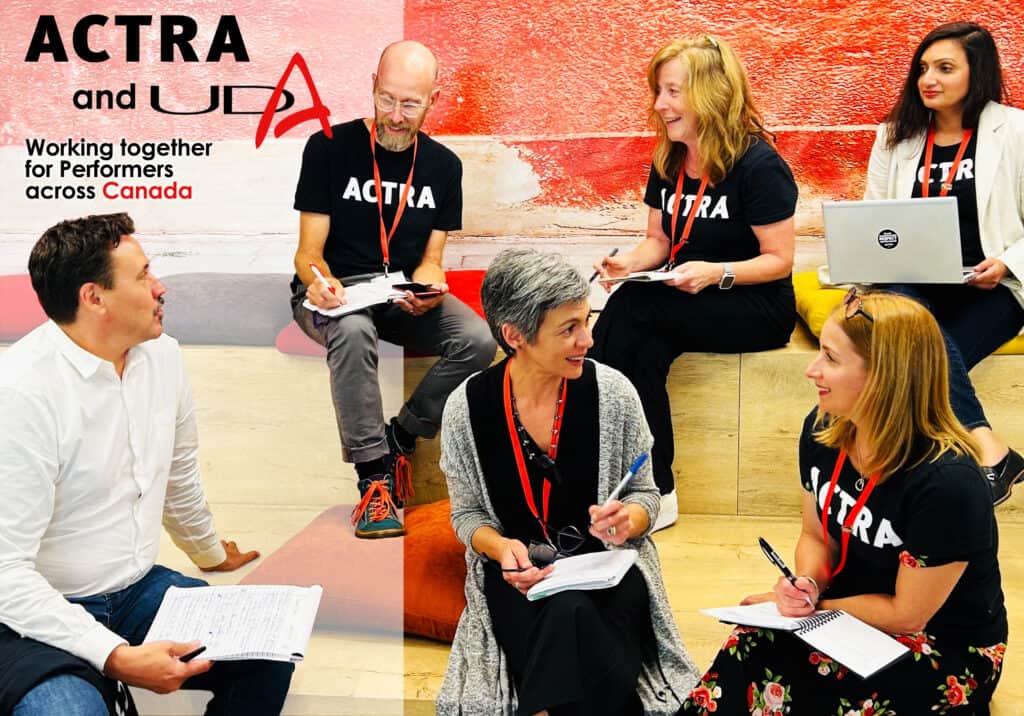 TORONTO (October 4, 2023) – The Alliance of Canadian Cinema, Television and Radio Artists (ACTRA) and the L'Union des artistes (UDA), which represents French speaking performers in Canada are pleased to announce we are joining forces to work together to fight for fair compensation and working conditions for members.
"The relationship between our two unions has never been more important given the unprecedented attacks on performers around the globe. We are standing together against corporate greed," said Eleanor Noble, ACTRA National President.
The two unions met during the International Federation of Actors (FIA) Executive Board meetings last week in Istanbul.
"We recognize that we are fighting the same battle," said Tania Kontoyanni, UDA President. "Together we must defend and preserve our union contracts and jurisdiction and the ability for our members to make a living wage."
ACTRA members have been locked out for 17 months by the Institute of Canadian Agencies (ICA) which has refused to bargain fairly and is demanding concessions that would slash performer rates between 50 to 60%.
For its part, UDA looks forward to the return of the APC in order to conclude an agreement for the advertising sector that has been expired since 2015.
Both unions are determined to push back in solidarity against union busting tactics and ensure performers are compensated for the value they bring to every brand and commercial production they work on in both languages.
About ACTRA:
ACTRA (Alliance of Canadian Cinema, Television and Radio Artists) is the national union of professional performers working in recorded media in Canada. ACTRA represents the interests of over 28,000 members across the country – the foundation of Canada's highly acclaimed professional performing community.
About UDA:
The Union of Artists (UDA) is a professional union representing 13, 000 performing artists who work in French in Quebec and Canada, as well as all artists working in a language other than French and English in Quebec.
Media Contacts:
Carol Taverner, ACTRA National Public Relations Officer, Tel: 416-644-1519, Email: ctaverner@actra.ca
Mélodie Roy, UDA Communications Strategist, medias@uda.ca Tel: 514-887-9356