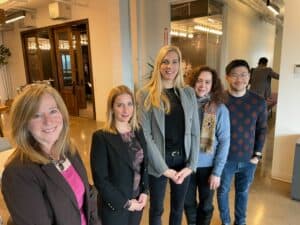 MONTREAL (November 14, 2023) – The Alliance of Canadian Cinema, Television and Radio Artists (ACTRA) welcomes the Federal Government's new policy directive to the CRTC on implementing Bill C-11: The Online Streaming Act.

"ACTRA is optimistic that the directive to maximize the use of Canadian creative and human resources, if enforced correctly, will improve the working lives of ACTRA performers and help strengthen the Canadian screen industry in the years to come," said Eleanor Noble, ACTRA National President.
Noble, ACTRA National Executive Director Marie Kelly, performers Kenny Wong and Ellen David and other leaders from Canada's creative industry joined Minister of Canadian Heritage Pascale St. Onge in Montreal today as she announced how Canada's broadcasting system will be modernized.

ACTRA participated at every part of the process to ensure the passage of Bill C-11, from its earliest inception to its eventual passing in March 2023. ACTRA remains a strong voice in support of the Bill as an important next step in protecting our Canadian industry and ensuring an equal playing field for all those who benefit from our Canadian marketplace. The union remains a vocal proponent of establishing clear criteria and made specific recommendations for the policy directives introduced today.
"When Bill C-11 passed, we were pleased with some of the legislation's aims, including requiring wealthy streaming services to pay their fair share but we were concerned foreign streamers got a better deal over Canadian broadcasters," said Noble. "Today's directives give hope that Canadian content producers and performers will be supported."
ACTRA will continue to play an active role in ensuring the rules set out for broadcasters are implemented to build a stronger future for Canadian film and television. On December 4, 2023, Noble and Kelly will appear before the CRTC to stress to the commission exactly why protections and proactive measures must be put into effect to support high-quality Canadian fiction, scripted comedies, and scripted drama. These continue to be the most watched genres, yet most underrepresented, in Canada's broadcasting system. ACTRA will also be asking the CRTC to ensure that all producers receiving funding adhere to the relevant collective bargaining agreements.
About ACTRA:
ACTRA (Alliance of Canadian Cinema, Television and Radio Artists) is the national union of professional performers working in recorded media in Canada. ACTRA represents the interests of over 28,000 members across the country – the foundation of Canada's highly acclaimed professional performing community.
Contact: Carol Taverner, ACTRA National Public Relations Officer: ctaverner@actra.ca